HOMELESSNESS IS NOT AN OPTION BUT RETURNING TO HOMELESSNESS IS EVEN WORSE!
Help Matanya's Hope Provide a Home for Kenya's Orphaned & Needy Children during this pandemic.
Your support helps us meet the needs of hungry, scared children every day. We are delivering food to sustain the hungry and special hygiene stations to protect at risk communities during this Covid 19 Pandemic. We are sheltering more than 35 children from this storm, providing water, clothing, shoes, medical, academics, spiritual grounding and much more! We need your help!
SOME FACTS ABOUT OUR MATANYA'S HOPE COMMUNITY.
1. Approximately 1/8 of our MH students are orphaned, abused, and neglected; they do not have a home apart from our MH family. In the face of Covid 19, we find ourselves with 35 homeless children and no safe place for them to find shelter. We have to act quickly to establish a home – a place these children can be safe, away from the most populated Covid outbreaks.
This pandemic opened our eyes.
If there is a time that MH cannot provide money for these children in Kenya, where will they live? If all we do is rent a temporary home, what stability will they have? We must prepare for the future.
FIGHTING HUNGER BY GROWING OUR OWN FOOD:
By securing land and building a safe house, we will have a permanent place for generations of Matanya's Hope children to call home. This permanent solution will enable us to feed our children, freeing them from the plague of hunger. As it stands today, we rely on buying food from the market. If there comes a time when Matanya's Hope cannot provide funds for the children, hunger will overtake their lives. This famine is a gateway to sickness, hopelessness, and the inability to learn well. Together, we can prevent this tragedy from happening.
Just before the Covid pandemic hit, donors like you helped us make a down payment on 1 ¼ acres of fertile farmland. Let us come together and give these children a chance for a healthy and hopeful future. This land is their hope. Without it, they will return to the hunger and devastation of the streets. Together, let us stand up for the young.

SENDING OUR CHILDREN TO SCHOOL:
For those needy children not yet sponsored, we will have the option to send them to a local day school and mentor them from home.
WHAT CAN YOU DO?
DONATE TODAY.
CHANGE A LIFE FOREVER!

At this time, if Matanya's Hope cannot offer financial assistance to house these desperate kids, we will have to send innocent children who we have loved, nurtured, and guided back to the streets. Please help us establish a safe home to keep these children protected from the dangers of the streets.
2. To our children, a Matanya's Hope safe house is like a light in the darkness.
The provision of land and a home in Matanya's Hope's name will serve these children for generations. Please help us give them a legacy. Like any family, our children's children will continue the tradition of opening our doors to the orphaned and hungry children in desperate need.
Your donation of any amount helps Matanya's Hope provide hope for some of Kenya's most vulnerable children.
Let's think of the child. We are their only hope.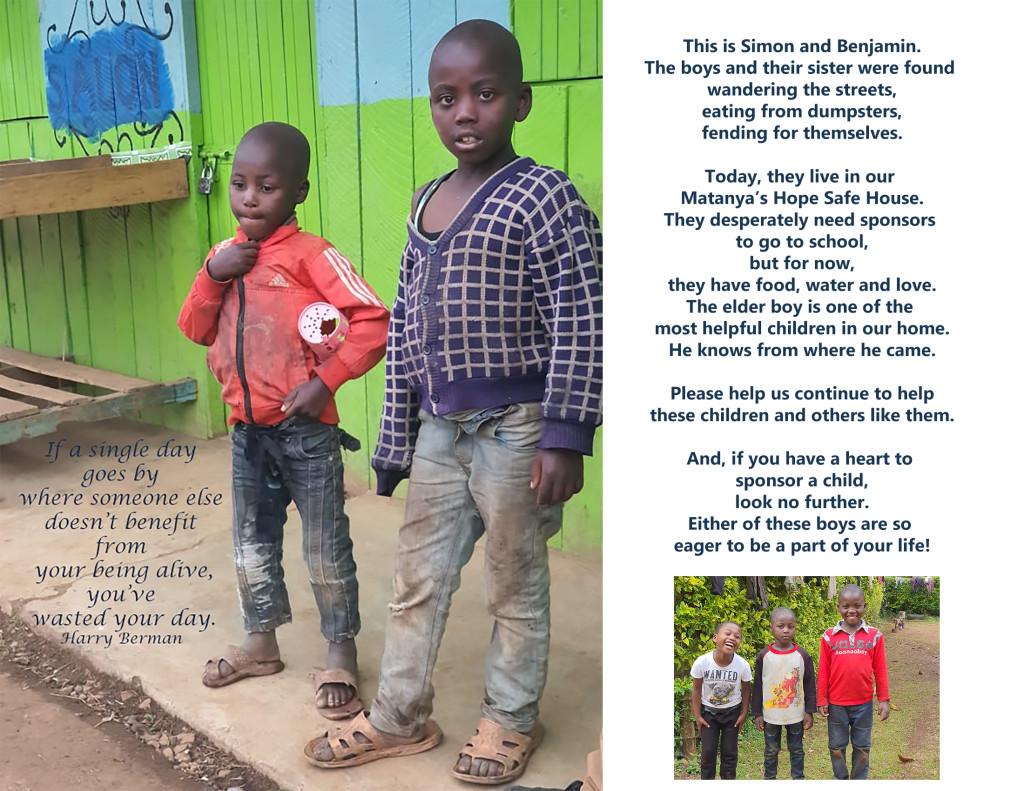 DONATE TODAY
If you would like to make a recurring donation, select option through the DONATE button.
Send checks to the address below:
Matanya's Hope PO Box 562 Homewood, IL 60430 708 822 4673 www.matanyashope.org