Its been a rough road to get Matanya's Hope to Kenya this year. Founder Michelle Stark drove from Matanya's Hope center to Dulles international airport in Washington DC. The trip began loading the last few bags into the car and moved on out of Illinois and through Indiana. While on the Ohio turnpike the trio on their way ran out of gas. Luckily they could pull over to the side but the car only went so far and trucks were whizzing by threatening to throw the car off of the bridge. Despite the unnerving experience, the Ohio police arrived within five minutes of the pull off and called a gas truck. Within one hour the trio was back on their way to DC.
The next day proved to carry its own trial. While picking up a couple items to take to Kenya at a mall Michelle left a bag in a shop containing her cell phone. This phone contains all of Michelle's contacts in Kenya. She was a little more than shaken but it was returned and again they went back to the road again.
Once in DC, the group went to rent a U-Haul truck that they'd be allowed to take on airport premises. Tina Plunkett, one of the volunteers who drove out to DC, drove the U-Haul. Tarik, a sponsor of a student and truck driver, drove the truck loaded with all of the bags from Illinois. Tarik and the other volunteers helped to take the bags off of the truck and into the U-Haul. It was a hot day and the refrigerated truck was a blessing to cool down the group.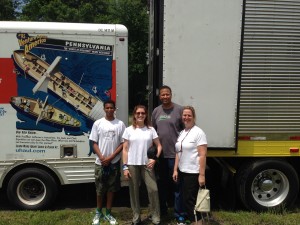 Finally the bags were loaded and the truck was headed to Dulles. Two wonderful representatives of Brussels airlines had porters and carts ready and waiting to take the bags into the airport. Each was offloaded and counted to assure that everything was there. They are now in Kenya, East Africa!
Despite the road bumps, it has been a wonderful journey. Matanya's Hope and its children have much to be thankful for. Thank you to Tarik for the truck and help with the bags. Thank you to Brussels airlines for the free passage of our seventy bags full of donations. Thank you to the sponsors and people who made it possible to fill our bags. Thank you to everyone who has played a part in our journey to help Africa!
Stay tuned to our blog to find out what all of the donations and volunteering is for. The next three months are about everything that has been done for Matanya's Hope in the past nine months coming into place and working to save children's lives.