Jeremy Rivers hosted a garage sale today to benefit the children of Matanya's Hope.
Rivers and his two brothers gathered a collection of sports equipment, books, games and more and offered them for sale. Jodi, Rivers mother, has been educating these boys on the importance of giving back. Today was a huge mile marker when many 25 and 50 cent items added up to almost $175 dollars raised and donated to Matanya's Hope!
With the 2014 mission fast approaching, Matanya's Hope still needs to raise $4,000.
This is your chance to hit the donate button and become a part of our success!
One small act is all it takes to change the life of a child in need.
Just this once. Just a little.
Click the donate button on top of the page and donate today.
Here's to 3 boys and their mom who made it happen!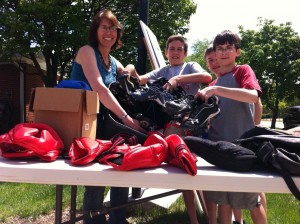 Comments
comments