There are only two ways to live your life.
One, is as though nothing is a miracle.
The other, is as though EVERYTHING is a miracle.
Albert Einstein
What do we say when a child comes to us with his dreams?
Do we tell him, "you are not my child?"
Or do we listen. Help. Hope.
Who? Ibrahim.
What? My mother promised to take me to school.
Where? Rural Kenya.
The Story: Last year Ibrahim contacted Matanya's Hope, pleading his case for sponsorship. We did not have a sponsor.
The story below is told by Ibrahim.
"Although I was first admitted to East African University, I had to walk away from the chance. Then I thought all hope was gone and I was admitted to Zetech University near Nairobi, in Ruiru. My mother had to borrow funds from my elderly grandmother to send me to school. She has no more to borrow.
I don't know who she will find help from next semester which will begin in September.
I don't know what to do. I feel the weight of my dreams trying to press me down but I don't want to give up."
I am the only hope of my family. My mother is a house help. She earns very little. Even food is a challenge."
Each of Ibrahim's siblings dropped out of school at the primary level due to abject poverty. "Please, I don't want to drop out of school like my brothers. I watch them despair because they can not always find work. They are a burden on my mum when she has to supply food and basic needs."
I was admitted to Zetech University do a diploma in accounting and finance which will end November next year. My fees last term were 27,500 ksh (approximately $275.00). This term my fees in total are: 53,000 (approximately $530.) Here are my fees broken down:
Fees: 20,000 (approximately $200)
Rent: 16,000 (4,000 per month; approximately $160)
Food: 12,000 (3000 per month; approximately $120)
Transport: 1,000 (approximately $10)
Printing: 4,000 (1000 per month; approximately $40)
Each semester is 4 months. I was not able to pay last month's rent of 4,000 (approximately $40). Also because I do not have a laptop, I must use the cyber to print my assignments, notes and papers. The cost is around 1,000 per month (approximately $10).
I have a dream for the future: to bring help to everyone in my family who needs my help.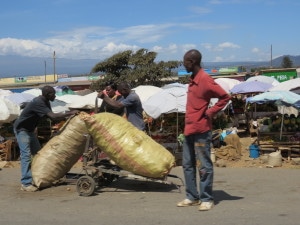 I am an ambitions, cheerful, kind, loving and honest 21 year old student who just wants a chance to bring hope to my family. I manage a mean grade of B-. I am the role model to my younger cousins since I am the second learned person in my entire family after my aunt who went to school. I am determined. I want to help my family since my brothers are illiterate and are forced look for casual jobs. I have 3 semesters remaining. 3 semesters stand between me and the answer to my prayers. I want so much to be able to go to school and to help my mom.
I have been struggling for school fees since my mom lost her job immediately after I finished my last year of high school.
Ibrahim Waihenya
Nanyuki
Comments
comments